-Books-
Do you love that feeling you get when you're surrounded by books? So calming, and the scent? Euphoric. It's even been scientifically proven to reduce stress.
We love books, too. All books. The more, the better. Here at Adventures Underground, there are literally thousands of them. Come in, either for that specific book you're looking for, or just to browse and explore. And if you're having any trouble finding something, just ask! We love helping people find the books they are excited about.
What is that? Just out of the corner of your eye. It's so beautiful, it is almost hard to look at, but you just can't keep your eyes off it... It is your new favorite book.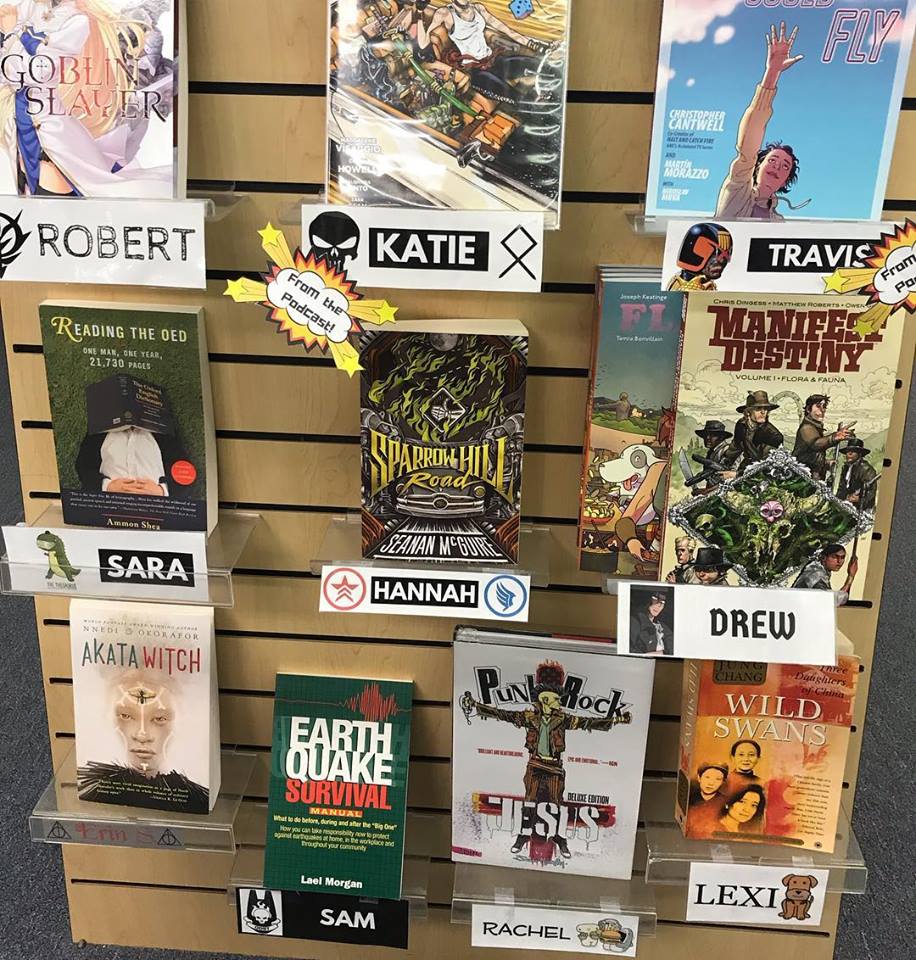 NEW TO THE STORE!

A story of growing up in turmoil, Rough House recounts a childhood divided between a charming, mercurial, abusive father in the forests of the Pacific Northwest, and a mother struggling with poverty in The Dalles. It is also a story of generational trauma, especially for the women - a story of violent men and societal restrictions, of children not always chosen, and frequently raised alone. Tracing her childhood through the working class towns and forests of Washington and Oregon, Ontiveros explores themes of love and loss, parents and children, and her own journey to a different kind of adulthood
Sydney Green is Brooklyn born and raised, but her beloved neighborhood seems to change every time she blinks. Condos are sprouting like weeds, FOR SALE signs are popping up overnight, and the neighbors she's known all her life are disappearing. To hold onto her community's past and present, Sydney channels her frustration into a walking tour and finds an unlikely and unwanted assistant in one of the new arrivals to the block--her neighbor Theo. But Sydney and Theo's deep dive into history quickly becomes a dizzying descent into paranoia and fear. Their neighbors may not have moved to the suburbs after all, and the push to revitalize the community may be more deadly than advertised. When does coincidence become conspiracy? Where do people go when gentrification pushes them out? Can Sydney and Theo trust each other--or themselves--long enough to find out before they too disappear?
A Snake Lies Waiting is the next in Jin Yong's high stakes, tension-filled epic Legends of the Condor Heroes series, where kung fu is magic, kingdoms vie for power and the battle to become the ultimate kung fu master unfolds.
Guo Jing has confronted Apothecary Huang, his sweetheart Lotus Huang's father, on Peach Blossom Island, and bested the villainous Gallant Ouyang in the three trials to win the hand of his beloved.
But now, along with his two friends and shifus, Zhou Botong of the Quanzhen Sect, and Count Seven Hong, Chief of the Beggar Clan, he has walked into another trap. Tricked into boarding a unseaworthy barge by Apothecary Huang, the three friends will surely drown unless Lotus--who has overheard her father's plans--can find a way to save them.
Yet even if they are to survive the voyage, great dangers lie in wait on the mainland. Viper Ouyang, the gallant's uncle and one of the Five Greats of the martial world, is determined to have his revenge on Guo Jing for getting the better of his nephew, and bent on becoming the most powerful master of the wulin. Meanwhile, Yang Kang, who Guo Jing has come to trust, has yet to reveal the full extent of his treachery.
Leading Ladies do not end up on tabloid covers.
After a messy public breakup, soap opera darling Jasmine Lin Rodriguez finds her face splashed across the tabloids. When she returns to her hometown of New York City to film the starring role in a bilingual romantic comedy for the number one streaming service in the country, Jasmine figures her new "Leading Lady Plan" should be easy enough to follow--until a casting shake-up pairs her with telenovela hunk Ashton Suárez.
Leading Ladies don't need a man to be happy.
After his last telenovela character was killed off, Ashton is worried his career is dead as well. Joining this new cast as a last-minute addition will give him the chance to show off his acting chops to American audiences and ping the radar of Hollywood casting agents. To make it work, he'll need to generate smoking-hot on-screen chemistry with Jasmine. Easier said than done, especially when a disastrous first impression smothers the embers of whatever sexual heat they might have had.
Leading Ladies do not rebound with their new costars.
With their careers on the line, Jasmine and Ashton agree to rehearse in private. But rehearsal leads to kissing, and kissing leads to a behind-the-scenes romance worthy of a soap opera. While their on-screen performance improves, the media spotlight on Jasmine soon threatens to destroy her new image and expose Ashton's most closely guarded secret.
There's something strange about the Silver family house in the closed-off town of Dover, England. Grand and cavernous with hidden passages and buried secrets, it's been home to four generations of Silver women--Anna, Jennifer, Lily, and now Miranda, who has lived in the house with her twin brother, Eliot, ever since their father converted it to a bed-and-breakfast. The Silver women have always had a strong connection, a pull over one another that reaches across time and space, and when Lily, Miranda's mother, passes away suddenly while on a trip abroad, Miranda begins suffering strange ailments. An eating disorder starves her. She begins hearing voices. When she brings a friend home, Dover's hostility toward outsiders physically manifests within the four walls of the Silver house, and the lives of everyone inside are irrevocably changed. At once an unforgettable mystery and a meditation on race, nationality, and family legacies, White is for Witching is a boldly original, terrifying, and elegant novel by a prodigious talent.
-New Books-
Let's talk new books. Here at Adventures Underground, we are constantly striving to provide the best selection that we can, in order to better serve you.
Check out our displays of new releases for the hottest new books to hit the shelves. And if there's an upcoming release you're looking forward to, please let us know. We can always put in a special order for you to ensure you have it on release day.
We always love to hear your input about books so we can make our selection the best that it can be.
A novel about faith, science, religion, and family that tells the deeply moving portrait of a family of Ghanaian immigrants ravaged by depression and addiction and grief, narrated by a fifth year candidate in neuroscience at Stanford school of medicine studying the neural circuits of reward seeking behavior in mice.
In 1611, the merchants of London's East India Company received a mysterious letter from Japan, written several years previously by a marooned English mariner named William Adams. Foreigners had been denied access to Japan for centuries, yet Adams had been living in this unknown land for years. He had risen to the highest levels in the ruling shogun's court, taken a Japanese name, and was now offering his services as adviser and interpreter.
Seven adventurers were sent to Japan with orders to find and befriend Adams, in the belief that he held the key to exploiting the opulent riches of this forbidden land. Their arrival was to prove a momentous event in the history of Japan and the shogun suddenly found himself facing a stark choice: to expel the foreigners and continue with his policy of isolation, or to open his country to the world. For more than a decade the English, helped by Adams, were to attempt trade with the shogun, but confounded by a culture so different from their own, and hounded by scheming Jesuit monks and fearsome Dutch assassins, they found themselves in a desperate battle for their lives.
Giles Milton's Samurai William is the fascinating story of a clash of two cultures, and of the enormous impact one Westerner had on the opening of the East.
The story begins in 1619--a year before the Mayflower--when the White Lion disgorges "some 20-and-odd Negroes" onto the shores of Virginia, inaugurating the African presence in what would become the United States. It takes us to the present, when African Americans, descendants of those on the White Lion and a thousand other routes to this country, continue a journey defined by inhuman oppression, visionary struggles, stunning achievements, and millions of ordinary lives passing through extraordinary history.
Four Hundred Souls is a unique one-volume "community" history of African Americans. The editors, Ibram X. Kendi and Keisha N. Blain, have assembled ninety brilliant writers, each of whom takes on a five-year period of that four-hundred-year span. The writers explore their periods through a variety of techniques: historical essays, short stories, personal vignettes, and fiery polemics. They approach history from various perspectives: through the eyes of towering historical icons or the untold stories of ordinary people; through places, laws, and objects. While themes of resistance and struggle, of hope and reinvention, course through the book, this collection of diverse pieces from ninety different minds, reflecting ninety different perspectives, fundamentally deconstructs the idea that Africans in America are a monolith--instead it unlocks the startling range of experiences and ideas that have always existed within the community of Blackness.
This is a history that illuminates our past and gives us new ways of thinking about our future, written by the most vital and essential voices of our present.
Since childhood, Yolanda Vance has forged her desire to escape poverty into a laser-like focus that took her through prep school and Harvard Law. So when her prestigious New York law firm is raided by the FBI, Yolanda turns in her corrupt bosses to save her career—and goes to work for the Bureau. Soon she's sent undercover at Red, Black, and Green—an African-American "extremist" activist group back in her California college town. They claim a biotech corporation fueled by Pentagon funding is exploiting the neighborhood. But Yolanda is determined to put this assignment in her win column, head back to corporate law, and regain her comfortable life...

Until an unexpected romance opens her heart—and a suspicious death opens her eyes. Menacing dark money forces will do anything to bury Yolanda and the movement. Fueled by memories of who she once was—and what once really mattered most—how can she tell those who've come to trust her that she's been spying? As the stakes escalate, and one misstep could cost her life, Yolanda will have to choose between betraying the cause of her people or invoking the wrath of the country's most powerful law enforcement agency.
A Bond Undone is the second book in Jin Yong's epic Chinese classic and phenomenon Legends of Condor Heroes series, published in the US for the first time!
In the Jin capital of Zhongdu, Guo Jing learns the truth of his father's death and finds he is now betrothed, against his will, to two women. Neither of them is his sweetheart Lotus Huang.
Torn between following his heart and fulfilling his filial duty, Guo Jing journeys through the country of his parents with Lotus, encountering mysterious martial heroes and becoming drawn into the struggle for the supreme martial text, the Nine Yin Manual. But his past is catching up with him. The widow of an evil man he accidentally killed as a child has tracked him down, intent on revenge.
Meanwhile, his true parentage at last revealed, Yang Kang, the young prince Guo Jing must face in the Garden of the Eight Drunken Immortals, is forced to choose his destiny. Will he continue to enjoy the life of wealth and privilege afforded to him by the invader of his homeland, or give up all he has known to avenge his parents?
SOMETIMES GROWING UP MEANS FACING YOUR DEMONS
The son of a struggling single mother, Jamie Conklin just wants an ordinary childhood. But Jamie is no ordinary child. Born with an unnatural ability his mom urges him to keep secret, Jamie can see what no one else can see and learn what no one else can learn. But the cost of using this ability is higher than Jamie can imagine - as he discovers when an NYPD detective draws him into the pursuit of a killer who has threatened to strike from beyond the grave.
LATER is Stephen King at his finest, a terrifying and touching story of innocence lost and the trials that test our sense of right and wrong. With echoes of King's classic novel It, LATER is a powerful, haunting, unforgettable exploration of what it takes to stand up to evil in all the faces it wears.
A humorous and insightful look into what advice works, what doesn't, and what it means to transform yourself, by the co-hosts of the popular By the Book podcast.
In each episode of their podcast By the Book, Jolenta Greenberg and Kristen Meinzer take a deep dive into a different self-help book, following its specific instructions, rules, and advice to the letter. From diet and productivity to decorating to social interactions, they try it all, record themselves along the way, then share what they've learned with their devoted and growing audience of fans who tune in.
In How to Be Fine, Jolenta and Kristen synthesize the lessons and insights they've learned and share their experiences with everyone. How to Be Fine is a thoughtful look at the books and practices that have worked, real talk on those that didn't, and a list of philosophies they want to see explored in-depth. The topics they cover include:
Getting off your device
Engaging in positive self-talk
Downsizing
Admitting you're a liar
Meditation
Going outside
Getting in touch with your emotions
Seeing a therapist
Before they began their podcast, Jolenta wanted to believe the promises of self-help books, while Kristen was very much the skeptic. They embraced their differences of opinion, hoping they'd be good for laughs and downloads. But in the years since launching the By the Book, they've come to realize their show is about much more than humor. In fact, reading and following each book's advice has actually changed and improved their lives. Thanks to the show, Kristen penned the Amish romance novel she'd always joked about writing, traveled back to her past lives, and she broached some difficult conversations with her husband about their marriage. Jolenta finally memorized her husband's phone number, began tracking her finances, and fell in love with cutting clutter.
Part memoir, part prescriptive handbook, this honest, funny, and heartfelt guide is like a warm soul-baring conversation with your closest and smartest friends.
Jungle is a cutting-edge travel agency specializing in tourism to destinations devastated by disaster and climate change. And until she found herself at the mercy of a predatory colleague, Yona was one of their top representatives. Now on the verge of losing her job, she's given a proposition: take a paid "vacation" to the desert island of Mui and pose as a tourist to assess the company's least profitable holiday.
When she uncovers a plan to fabricate an extravagant catastrophe, she must choose: prioritize the callous company to whom she's dedicated her life, or embrace a fresh start in a powerful new position? An eco-thriller with a fierce feminist sensibility, The Disaster Tourist introduces a fresh new voice to the United States that engages with the global dialogue around climate activism, dark tourism, and the #MeToo movement.
-Used Books-
We're proud to offer an extensive selection of used books of all genres, both fiction and non-fiction. Our selection has been specially curated by our staff from our local community.
The majority of our used books come through in trade and are then put out on the shelves for you to peruse. More titles are put out every day, so be sure to check back frequently!
-Trade-
**CURRENT TRADE POLICY-
Due to pandemic survival rewriting many of our business practices: We are NOT taking trade for the foreseeable future. We are still accepting donations of acceptable product. Please make an appointment for donations.**
While we pride ourselves on having a large selection of used books, we need your help to keep it that way. We accept used books in trade and offer store credit in exchange that can be spent on anything in store.
We receive book trade daily and will give you a call as soon as we have a chance to go through yours. Any items that we are unable to take in trade you can choose to either have donated to the local library, or if you'd like them back, we will hold them 48 hours for you to pick up.
-Events-
Part of what we love most about what we do is being involved in our local community. In addition to annual events, such as NaNoWriMo and our sidewalk sale, we also host author events and a monthly book club.
For our complete list of upcoming events, be sure to check out our calendar of events!
Next Book Club Meet Up!
All events in the Caterpillar Cafe have been cancelled until further notice.
We meet the 1st Friday of every month in the Caterpillar Cafe at 7:00pm
There is no requirement to attend every meeting, and you do not have to have read the chosen book to attend either! Feel free to join us and talk books with us! (snacks to share are also welcome ♥)
Whether you loved the book, felt indifferent, read it already or perhaps absolutely hated it and couldn't handle one more word, we want to know!
Our goal is to make book club the one time a month you can get together with fellow book lovers, discuss the month's read, and then spend the rest of the evening talking books until we can't find anymore books to talk about.. which is practically impossible, so it's more like until we run out of snacks...
Not part of book club yet? It's easy and free! Just show up to one meeting, join our FB group and invite your friends.
May Book Club Selection
As the ash and chaos from Mount Rainier's eruption swirled and finally settled, the story of the Greenloop massacre has passed unnoticed, unexamined . . . until now. The journals of resident Kate Holland, recovered from the town's bloody wreckage, capture a tale too harrowing--and too earth-shattering in its implications--to be forgotten. In these pages, Max Brooks brings Kate's extraordinary account to light for the first time, faithfully reproducing her words alongside his own extensive investigations into the massacre and the legendary beasts behind it. Kate's is a tale of unexpected strength and resilience, of humanity's defiance in the face of a terrible predator's gaze, and, inevitably, of savagery and death.
Yet it is also far more than that.
Because if what Kate Holland saw in those days is real, then we must accept the impossible. We must accept that the creature known as Bigfoot walks among us--and that it is a beast of terrible strength and ferocity.
Part survival narrative, part bloody horror tale, part scientific journey into the boundaries between truth and fiction, this is a Bigfoot story as only Max Brooks could chronicle it--and like none you've ever read before.
April Book Club Selection
After receiving a frantic letter from her newly-wed cousin begging for someone to save her from a mysterious doom, Noemí Taboada heads to High Place, a distant house in the Mexican countryside. She's not sure what she will find—her cousin's husband, a handsome Englishman, is a stranger, and Noemí knows little about the region.

Noemí is also an unlikely rescuer: She's a glamorous debutante, and her chic gowns and perfect red lipstick are more suited for cocktail parties than amateur sleuthing. But she's also tough and smart, with an indomitable will, and she is not afraid: Not of her cousin's new husband, who is both menacing and alluring; not of his father, the ancient patriarch who seems to be fascinated by Noemí; and not even of the house itself, which begins to invade Noemí's dreams with visions of blood and doom.

Her only ally in this inhospitable abode is the family's youngest son. Shy and gentle, he seems to want to help Noemí, but might also be hiding dark knowledge of his family's past. For there are many secrets behind the walls of High Place. The family's once colossal wealth and faded mining empire kept them from prying eyes, but as Noemí digs deeper she unearths stories of violence and madness.

And Noemí, mesmerized by the terrifying yet seductive world of High Place, may soon find it impossible to ever leave this enigmatic house behind.