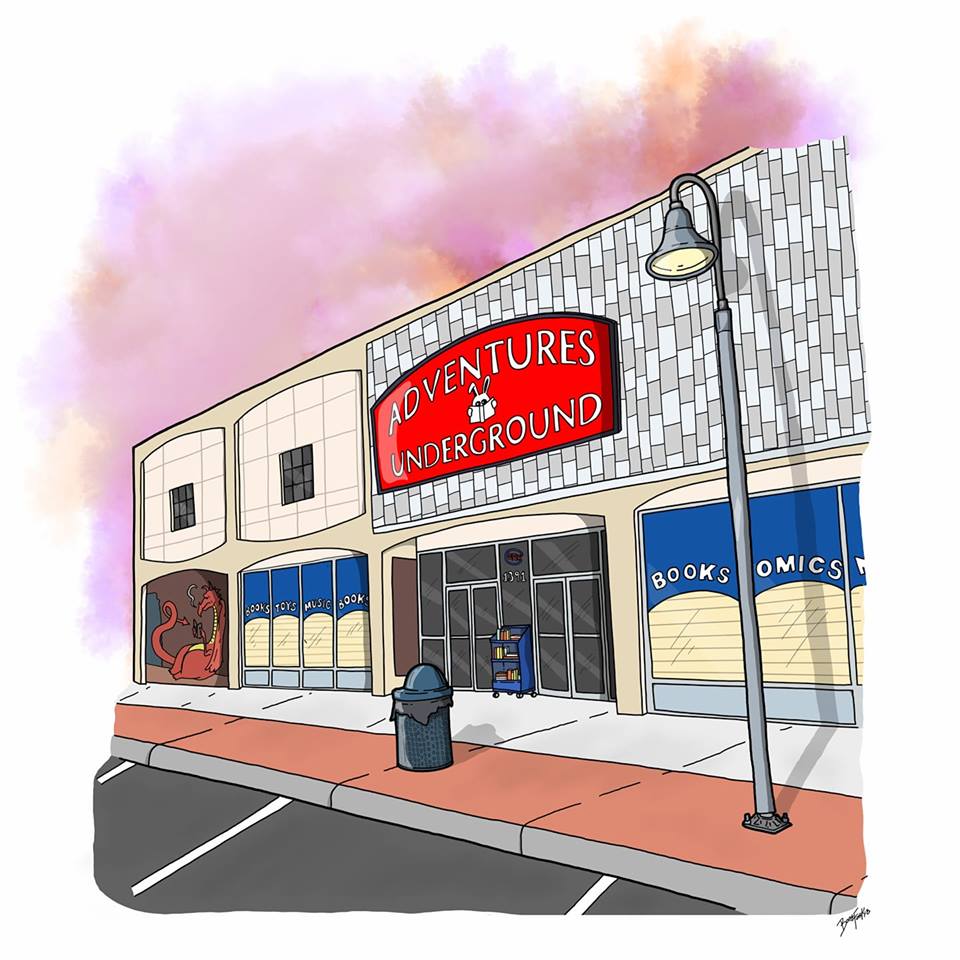 �
---
Adventures Underground came into existence in September of 1999, when Logan Kaufman and Amanda Divine, who had spent a year or two buying books just as a hobby, realized they would never be able to read everything they'd collected, and decided to start selling books online.
Their parents helped tremendously while the two were in college, even wrapping and packaging book orders from the mad stacks of books in the garage.
Eventually, Logan and Amanda rented a warehouse and a storage unit, and spent a few long years building their collection of books, comics, and a couple thousand records. This, however, was not really the life, and they started looking for retail space.
In 2007, they found a vacant spot in the Uptown Shopping Center, an outdoor mall built in 1949 in the height of the Cold War Boom. The rent was low, there was room to grow, and the storefront opened on June 2nd, 2007.
The response from the community was immediate and intense. There were regulars on day one, and the store quickly grew in stock (both variety and quantity) and popularity.
As with all great(?) things, there have always been times of struggle, from crash courses in customer and employee relations to juggling financial responsibilities and taming inventory budgets, but Adventures Underground has finally grown beyond two kids and a book hobby into a fully-fledged community project, allowing staff and customers alike to find a home, a community of like-minded souls, with a passion for pop-culture, entertainment, literature, and the just plain weird.
Adventures Underground is a locally owned and operated mom and pop shop at 1391 George Washington Way in Richland, Washington (USA). We have over 10,000 square feet of retail space, which we have filled with thousands upon thousands of new and used books, comics, graphic novels, record albums (and a few cassettes), children's toys, adult collectibles, Japanese import snacks, Gundam and other model kits, and many other items. It should be too many to even count, much less catalog, but we keep darn near everything in our inventory database, which we share online with you. We're pretty much your local neighborhood bookstore, comic book shop, record store, and game and hobby shop. We've even had an in-house coffeeshop, Caterpillar Cafe, going strong for several years now.
We try to be pop-culture nerd central, a community haven for book lovers and other weirdos. But here's the catch: we're pretty lo-fi. We're a bit of a hold out from the pre-digital age. Our turntables require an outlet, and I guess if you really want to get the most enjoyment out of them, you'll probably need some kind of electricity to listen to our audiobooks.
Yes, we encourage you to Unplug, but what that means changes from person to person. You might come in for comics for years, and then one day look up and say "Oh hey, they carry board games!" You might never leave the cafe area to realize we have more than coffee, tea, and LPs. You might spend all your time in the Events Room in the back, with just a passing awareness of the 60,000 books you pass to get back there. You might come in regularly for any or all of our book clubs, author signings, and story times. Any way you like it, whether you like all our stuff or just a niche, we want to provide you with all the means to nerd out. So if that means you want to curl up in a comfy chair with an old friend, or gently crack the spine of a new one (just a little, to break it in, once you get home), meet up with friends to drink beer, play piano, or listen to a new LP, smell some freshly brewed beans, or even throw some dice down a tower, we might just be the place where you can finally be at home.
---