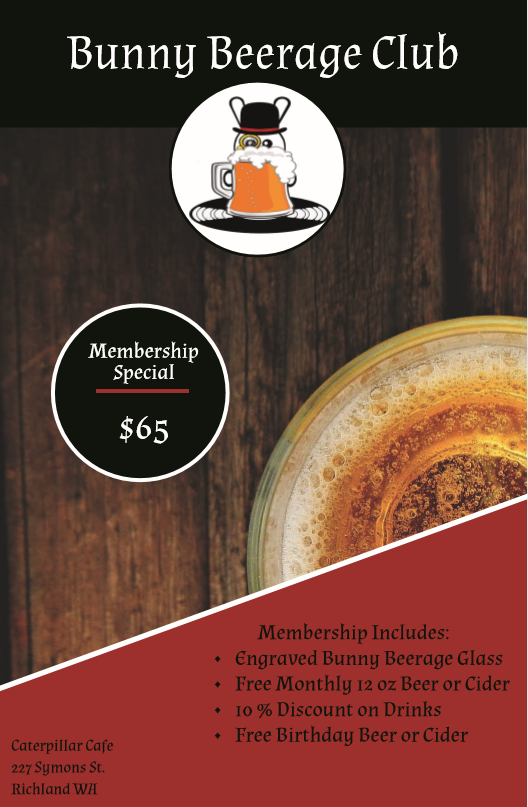 Caterpillar Cafe
Inside Adventures Underground
The return of curbside to go! Click Here to Order!   
We are thrilled to be opening back up to serve you! Now offering walk up orders to go and our Curbside to go ordering through the link above!
Don't forget our Bunny Beerage Club! While we may not be able to serve you a beer currently it is an amazing deal! We will offer post Quarantine specials for our club members! This is a limited time pricing and a wonderful way to help support us! We serve craft beers and ciders focusing on local and regional brews. There is nothing like taking a little time to stop and have a drink while hanging out in the café.
In other Cafe drink news... the mastermind in charge of the cafe has been sourcing new draft drinks to bring into the cafe! As vague as the last statement is I promise you this only leads to great things! Check back soon for more announcements!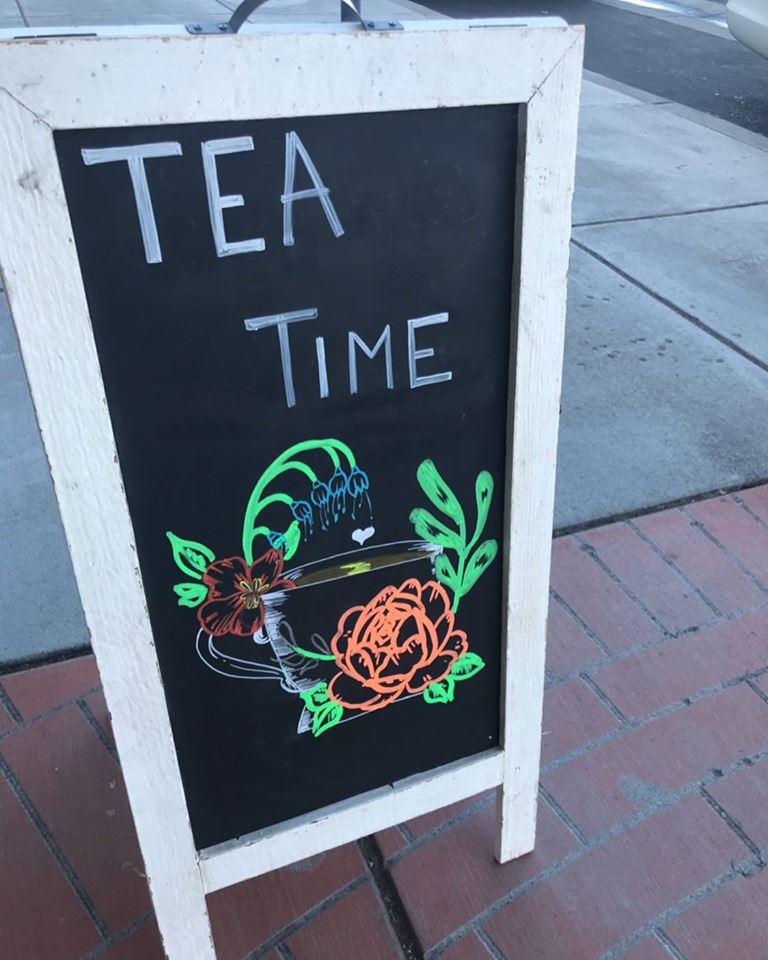 ---
-About Us-
We are a locally owned and operated cafe serving both coffee and tea crafted by the cup, as well as a rotating selection of fresh baked pastries, sandwiches, and the Pacific Northwest's finest beer and cider. 
We also offer fresh-roasted artisan coffee beans from several roasteries throughout Washington State for home brewing, along with cups, tea brewing supplies, and chocolate-covered espresso beans.
---
-Location-
We're located right around the corner from Adventures Underground on the North end of the Uptown Shopping Center, at:
Richland, Washington 99354

We also connect directly to Adventures Underground, sharing space with Au Records. Come down the rabbit hole in the comics section to visit us!
---
-Follow the White Rabbit-
Follow us on social media for information about new products and our upcoming events!
---
-Coffee-
Coffee (and tea) has a way of bringing people together. A shared cup opens the way for a shared dialogue. We serve some of the best coffee Washington State has to offer. From our house espresso blend, crafted by Caffé D'arte of Seattle, to our single origin French press and pour over options, every cup has a story to tell. 
-Community-
Think globally, act locally. It's not just a phrase to us; it's what drives us each and every day. We support the local arts and community through donations and events. We also are committed to doing our part to help our environment. We recycle our glass, plastic, paper, and spent coffee grounds and all of our to-go cups are made with recycled materials.
-Culture-
A little bit geeky, a little bit rock 'n roll. We're enthusiastic about the things we love, including coffee, tea, beer, music, our favorite books, movies, and superheroes. You'll see that love reflected in our decor and our menu is inspired by all those things.
We do what we do because of our passion for amazing things. Great food and beverages, great people and great adventures. Come join us and experience a little bit of love in every cup.