Lane Smith: Stinky Cheese and Big Underwear

Interview by Amanda Divine, Adventures Underground

---

From high school gas stations to ads, magazines, books, and animation, Lane Smith has written and illustrated a bunch of stuff (even including The Da Vinci Code, according to his website).

Lane's wife, Molly Leach (who designs all his books), and Jon Scieszka's wife were both art directors at the same magazine. Lane's titles with Jon Scieszka have included the Caldecott Honor winner The Stinky Cheese Man, as well as the best sellers The True Story of the 3 Little Pigs; Math Curse; and Science Verse. Lane's other high profile titles include Hooray for Diffendoofer Day! by Dr. Seuss and Jack Prelutsky; The Very Persistent Gappers of Frip by George Saunders; and James and the Giant Peach by Roald Dahl. In 1996 Lane served as Conceptual Designer on the Disney film version of James and the Giant Peach.

He also wrote and illustrated The Happy Hocky Family and The Happy Hocky Family Moves to the Country. He and book designer Molly Leach live in the country too, in the little town of Washington, Connecticut.
---
Amanda Divine: We interviewed Kurt Cyrus earlier this year, and he mentioned how passionate you were about children's books, even while at Art Center College of Design (ACCD). Was this something you had always wanted to do?
Lane Smith: I always loved children's books and just about anything relating to childhood. I had a great upbringing, great parents. While at Art Center I gravitated to the naive painters and minimalists: Paul Klee, Calder, etc--artists whose work was very childlike. It was a natural progression for me to reexamine kid's books in the Art Center library and think, "Hey maybe this is an option." At that time, Art Center had no children's illustration course so I was forced to take a class on that subject at a competing school: Otis Parsons in Los Angeles. All of us Art Center guys (Kurt, Dave Shannon, Tim Egan, Thomas Kinkade (!)) were studying editorial illustration, so when I moved to New York a year after graduation I worked for places like the NY Times, Time Magazine, etc., while building my children's book portfolio at night.
Amanda: So were you already planning on children's illustration when you began at Art Center, or did you just know you wanted to be involved in art somehow?
Lane Smith: No, when I started at Art Center I only knew I didn't want to be a dentist or an accountant. I remember raising my hand at orientation and asking, "This is a stupid question, but what IS illustration anyway?"
I mean, I knew it was commercial art and all but I was really confused how the whole business worked. I knew I wanted to do cartooning or animation or SOMETHING fun. I was there for less than a year when I started thinking seriously about kid's books.
Amanda: What led you to Art Center in the first place, as opposed to becoming a kindergarten teacher, or a whale biologist?
Lane Smith: In high school I had a great art teacher, Mr. Baughman, who saw some potential in my work. Up until then I hadn't given a career in art much thought. And college was not a top priority in my family. In fact, of all my relatives and immediate family only one or two ever even thought about college. Mr. Baughman personally drove me to Pasadena, an hour and a half away, and introduced me to the school recruiters. If not for him I'd still be painting Christmas windows or doing caricatures at an amusement park.
Amanda: What kind of work were you doing that caught his attention?
Lane Smith: This was high school so nothing exceptional...he just saw some skill, I guess. Unlike the other kids who were painting their names with decorative borders or copying a picture from a magazine, I was painting gas stations and railroad crossings. But I guess that was different enough. Of course, when I left class I would go home and doodle Spiderman and Charlie Brown for fun. Looking at my work now I see a cross between fine artsy influences and pop culture ones.
Amanda: When you started at Art Center, were you drawing and painting with the same sort of style and subject, or did you try to reinvent yourself?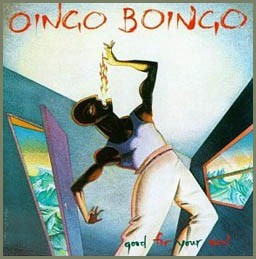 Lane Smith: Good question. My work was always humorous but at Art Center it became less cartoony. I was influenced by a lot of great European illustration of the time...this was also the era of punk and new wave music and fashion so my stuff got a little more jagged and sharp edged (splattery, too. A lot of us were "borrowing" from Ralph Steadman). Some of my first jobs were in punk newspapers and on album covers for groups like The Dickies and Danny Elfman's Oingo Boingo.
Amanda: I can definitely see this in your early work - if not sharp edges, at least very distinct ones. Were your classes pushing you in this direction as well?
Lane Smith: No! Art Center was very rigid at that time and stressed a clean, slick, photo-realistic advertising look.
Amanda: Then mostly other students and popular culture?
Lane Smith: Both. The music was a big influence and the whole L.A. scene. Pee Wee Herman's live show was in Hollywood, almost every weekend you could see acts like Gang of Four or X or the Clash or Dwight Yoakam. Gary Panter was doing covers for the L.A. Weekly, in Esquire and other magazines you would see illustrations by Sue Coe, Andre Francois, Blair Drawson...and at Art Center, students like Matt Mahurin, John Hersey and others were breaking out of the traditional ACCD mold. It was exciting. I think I was at the right place at the right time.
Amanda: What did you get out of your children's illustration class at Otis Parsons? I assume you took more than one...
Lane Smith: I just took the one course. The teacher was Barbara Bottner who had published several books herself. I believe what I got out of it was confidence in my work and also The Basics about book dummies. I also remember that more than half of the class was gone by the end of the course. Each week you'd see less faces. This taught me a valuable lesson: perseverance. I knew if I was going to make it at all I had to stick with it. Good groundwork since The True Story of the 3 Little Pigs was ultimately rejected by over a dozen publishers before finally finding a home at Viking Books.
Amanda: What did you do after graduation, before moving to New York?
Lane Smith: I worked for California magazine, L.A. Weekly and the L.A. Reader; I did some album covers and was also mailing slides of my portfolio to out of state magazines like The Progressive, Rolling Stone, etc. By the time I got to New York I had a few nice published pieces. I was also interested in animation. I worked on several shorts at Art Center and Kurt Cyrus and I spent a week making a strange, underground stop motion animated short (literally underground, the lead character rode atop an old, turn-of-the-century clothes-iron in a dark mine shaft).
Amanda: What sort of positions did you hold at the California magazines?
Lane Smith: I was just a freelance illustrator. The California magazines were some of my clients.
Amanda: How did the animation turn out?
Lane Smith: The animation turned out pretty good. It was definitely down and dirty with us mounting the camera on toy train tracks for smooth dolly shots. I guess it was somewhere between Jan Svankmajer, the Bros. Quay and Art Clokey!
Amanda: Did you do any others? The article on Wikipedia about you mentions that you worked as a janitor for Disney, so I wondered if you had been thinking about working in their animation studio...
Lane Smith: I dabbled with other handmade films until Henry Selick called me to design the stop motion characters for James and the Giant Peach. After minutes of being on-set at Skellington Productions with their amazing animators I tucked my tail between my legs and never attempted another animation on my own.
And yes, I was a proud Custodial Host at the Magic Kingdom. I was VERY animated cleaning the barf off the Teacups in Fantasyland. Very animated. We used to deodorize it with this concoction they called Pixie Dust™. No lie.
Amanda: Did you already have a job lined up in New York when you moved there, or was it just the best place to be for what you wanted to do?
Lane Smith: No, I had nothing lined up. I had lived with my parents all through college and it was my first time out of the house and on my own. I had a little money saved up from Disneyland, but honestly, I don't know what I was thinking...no checking account, no credit, hardly any cash. I slept on illustrator Matt Mahurin's floor for four or five weeks till I found an apartment. I guess what I had was determination...or better yet, fear of failure. I just kept schlepping my portfolio around. .I had a duplicate portfolio, too. Sometimes I was able to do two drop-offs plus an actual person-to-person appointment in the same day. This of course was in the early eighties and New York was the place to be for an aspiring illustrator. Now, I'd imagine you would do everything over the internet.
Amanda: Where did you finally get your "in"? How long did it take to get things going?
Lane Smith: Actually, my first week in New York I got a little spot illustration in the New York Times. An op-ed piece. After that I slowly started getting more spots, then full pages, then cover illustrations. There were lean times and busy times but eventually it became steady.
Amanda: What did you have in your portfolio?
Lane Smith: I had an uneven mix of class assignments, personal work and a few published California pieces. It eventually became an even mix as I refined my style and got more prominent published pieces. I guess the thing that unified it was it was all humorous. A lot of it was much darker than the stuff I do today... but still funny. Or trying to be funny.
Amanda: How were you preparing for doing children's books? Did you have specific ideas you were working on, or were you just trying to get noticed in that market?
Lane Smith: I figured if anyone was ever going to publish my work - [which was] pretty odd for a children's book back in 1986 - I would have to show them an entire book, not just a dummy or proposal. So, each night after my portfolio rounds I'd work on oil paintings of a different letter of the alphabet. They were Halloween-themed...after a few months I had all 26 letters of the alphabet. I took this to Macmillan Publishing. They liked it but felt like it could use a narrative. They showed the paintings to veteran writer Eve Merriam and amazingly, she agreed to write poems around the art; the reverse process of the way most books are done. We called it Halloween ABC and it was my first book.
However there was a problem. That year there was a strike at the Chinese publisher so my Halloween book came out in November! Still, it managed to win a few awards and get my foot in the door. Incidentally, it was rereleased a few years back as Spooky ABC in an enlarged format with added notes and things.
Amanda: When did you get interested in writing?
Lane Smith: As a kid, I always wrote stories and comic books... and I've continued throughout my life. I've always been interested in reading and writing but I think I use that other side of my brain. Visuals come easily, writing is hard. I can do one or even two illustrations in a day but I'll spend weeks going over a single paragraph. Even then I'll show it to friends - who are much better writers - and they'll say, "You don't need those last two lines."
Amanda: Much of your art is done around other authors' text...do you approach that sort of project the same way as if you had control of the entire book?
Lane Smith: When I write my own book I develop the art and visuals together. Sometimes the picture comes first, sometimes the text. When illustrating someone else's story, it's a chance to interpret their words in a way they might not have thought of. By the time one finishes a story they've usually lost all objectivity. Hopefully I can bring a fresh eye to it. For instance with Jon Scieszka's The True Story of the 3 Little Pigs I think I said, "Hey, since the Wolf is telling his story in flashback maybe I should illustrate him in stripes sitting in a jail cell?"
With my own work there's always a point about halfway into the book when it starts to get stale. That's when I hand it to my wife, Molly Leach, and she does a few page layouts. Just seeing the unexpected ways she designs the type ("Hey, I would have never thought of using that font!") always reinvigorates me and the book.
Amanda: While illustrating someone else's story, do you quickly map out the entire book to try to avoid that sort of "overthinking" roadblock?
Lane Smith: I start with doodles in the margins of the manuscript. Even before I've finished reading it for the first time I'm sketching. I then work up character studies, then finally begin blocking out the whole book. I guess I don't have that "overthinking" roadblock. Maybe I have an underthinking EZ Pass or something.
Amanda: When you started working on the film version of James and the Giant Peach, did you begin with a different plan than you would for a book?
Lane Smith: Yes. My job was to design the main characters and create twenty paintings which illustrated key scenes from the movie. The director, Henry Selick, might occasionally suggest a sequence from the script he wanted to see but for the most part he left me alone to paint what I liked. He was a good guy to work with.
For the characters, I did hundreds of sketches. Again, Henry and I were on the same wavelength...towards the end we fine-tuned little areas here and there but he pretty much liked most of what I came up with. Oh! Actually, Miss Spider took forever. I'm not that good at doing "sexy" so we went through lots of designs before I got her right. Towards the end, everyone at Skellington Productions was jumping in with their two cents. Which I was happy to have.
Amanda: Do you have any plans for other film projects?
Lane Smith: Not anytime soon. It's so hard to make them. They take so long and often become compromised. Jon and I worked on the Stinky Cheese Man movie for years at two different studios...today the project is in limburger limbo.
Amanda: What made you decide to write John, Paul, George and Ben?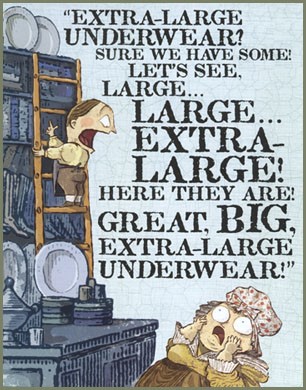 Lane Smith: I love history and particularly the founding fathers. I was working on a much larger history book: Columbus to the Moon Walk. You can imagine, it was looong. My favorite period is the Colonial period so I decided to cut back and concentrate there. Speaking of films, Weston Woods is doing a little animated short of John, Paul, George & Ben with James Earl Jones narrating. It'll be available next year.
Amanda: How have kids reacted to the book? It almost seems like learning, which could be scary...
Lane Smith: From the letters I've received they seem to be liking it a lot. Okay, truthfully, they seem less into the historical facts and more into the big underwear jokes. But that's okay. I might get them excited about history through "ye olde backdoor" as they say.
Amanda: Is history a source of inspiration you think you'll dip into again soon, or do you want to mix things up as much as possible?
Lane Smith: I have a couple of books I'm working on now that are not historical, but in '08 I have a fictional picture book coming out about a president.
---
You can learn more about Lane Smith at lanesmithbooks.com

Interview conducted by email, November of 2006
Copyright © 2006 Adventures Underground
More Interviews
---