Wes Lowe
Ten Questions

Interview by Logan Kaufman

---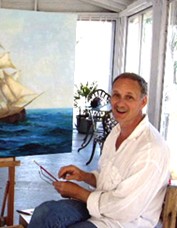 Wesley (Wes) Lowe has over twenty years experience as an illustrator, and has illustrated for advertising agencies and publishers in the US, Canada and Europe. He works in traditional media, and also has done digital illustration for various agencies and publishers. Wes is interested in exploring sculpture as another form of illustration, and is also working on adding 3D illustrations using Maya and SoftImage to his repertoire. He moved from Toronto in 2005 and now works from his studio on the Sunshine Coast, which is a short ferry ride (35 minutes) from Vancouver.
---
Logan: You're an artist who uses quite a number of different techniques. Is that something you've worked at consciously?
Wes Lowe: In the early part of my career as an illustrator I was mainly interested in realism and it still remains my favorite today. Some subject matter warrants a realistic style and realism comes naturally to me because I love details. More recently, I have enjoyed a more whimsical, fun, looser style of working and this suits some subject matter. On one hand I enjoy realism because of my love for historical subject matter, and on the other I also enjoy a more whimsical style because it allows me to step out of the box where anything goes.
Logan: You've been doing illustration for quite awhile now; how did you first get interested in illustrating for a career?
Wes Lowe: I first started working in graphic arts as a Package Designer. I had always loved drawing even as a child. As I worked in this industry, I became more aware of illustration and illustrators. I knew that this was what I wanted to do. So I sought out information about the field of illustration. I looked in magazines, in books, in every possible venue. I heard about a course at the Ontario College of Art. It was taught by a man whose name was Will Davies, a professional illustrator in Toronto. While I was enrolled in this man's evening course, he invited the students on occasion to his studio to see how he worked. The first time I saw illustrations that he was working on and the wonderful character of his studio filled with antiques: that had me hooked. From that point on, I knew that this is what I wanted to do....I had found my niche. This was a world that I wanted to be part of and every moment of mine was spent painting, drawing and collecting every article that contained an illustration.
Logan: You were involved in design and graphic arts, so you must have had some interest in the field before-hand. Did you not think you could make a living doing illustration at the time?
Wes Lowe: No, I did not think that at all. I really didn't know about the field of illustration. I could already paint and draw well, but I felt that my skills were not quite there. After all, if you were going to compete with good illustrators in the field, my work should be comparable to theirs. We all have different styles and that is okay. The work just had to be good and I always compared my work to the best that I could find who painted subject matter that I too wanted to do. By studying their work it helped me to perfect mine.
Logan: As a designer, did you have an outlet for getting your own artwork noticed?
Wes Lowe: If you mean as an illustrator, I started first doing work for a couple of publishers in Toronto. I contacted them directly and after several samples, they finally gave me a chance at a couple of small projects. After proving myself to them, they gave me larger projects to do. After about one year of freelancing for a few publishers, I had enough money saved up to advertise in an industry publication. This brought me work from advertising agencies and a few more publishers. If you strive to do the best work you can, even sometimes surpassing the client's expections, word of mouth sometimes helps to get your name around. I did have a rep in New York City and he did get me a lot of work.
Logan: What type of illustrations were you most interested in doing?
Wes Lowe: I was always interested in historical subject matter, primarily military subjects from WWI & WWII. I was interested in aircraft, vehicles and ships of this period. Since then, my interest has grown to many other historical subjects from early Roman to more contemporary.
Logan: Were you first clients primarily magazines and newspapers, or were you also working with book publishers early on?
Wes Lowe: My first client was a romance publisher, Harlequin, and then came other book publishers, then magazines and art studios / agencies, and pretty much in that order.
Logan: With an interest in historical and military illustration, how did you first get hired to do art for Harlequin?
Wes Lowe: I had shown them my portfolio, which contained subject matter very specific to their needs. When you approach a new client it is always advisable to build a portfolio specific to their subjects, etc., and this is what I had done. If you plan on illustrating people then the portfolio should contain strong and consistent work on this theme. Eventually I recieved my first commission and this followed with my illustrating one book per month in their mail-order readership series. Some artists prefer or specialize in certain subjects and some will do a more broader range of subjects.
Logan: You've also notably done cover illustrations for many classic children's titles. Was this a similar experience to your work with Harlequin, in as much as showing a portfolio with relevant work?
Wes Lowe: Most publishers do like to see work that is relevent to their particular needs, I guess it helps them feel more confident in their choice of artist. They are trusting that the illustrator will be able to complete the project on time and professionally. I had built up a reasonable portfolio by this time some through actual jobs (some were samples). Then I advertised my work in the appropriate media. I also had a rep in New York city and recieved many projects from there. I had built up a large portfolio of work for them to view and that helps a lot. I still do prefer a rep to do the intermediate work and deal with clients and I feel a good rep is worth having and they can be wonderful. Hopefully I will locate another one since my U.S. rep retired.
Logan: You and your wife are currently working on a children's book together, correct?
Wes Lowe: Yes, my wife (Nancy) and I started a book earlier this year but I have to concentrate on work that pays at the moment--I want to do a nice job of this book and ...my wife is still working on the story--when everything is finalized I will begin sketches and start the paintings.
Logan: Do you see your work on this having a realist style of art, or something more whimsical?
Wes Lowe: Though I have not started to do the artwork yet, I feel it will be towards a realistic style. By this I mean that I will obey some of the laws of perspective, anatomy, color, etc. I do however want my chararcters to have some whimsical charm, therefore I will deviate slightly from realism. As far as trees, buildings, etc., I will distort my perspective slightly to add some character to these elements. I will also use strong contrasts between the colors. I want it to be enchanting and to draw the reader into the art, so I will prepare a number of sketches and play around with color roughs before I move on to a final piece. I feel I will be using a combination of acrylics and coloured pencil on this project.
 

Interview conducted by email, November of 2006
Copyright © 2006 Adventures Underground
More Interviews