Irene Radford on Romance, Revolution, and Some Books She Can't Tell You About Yet
Amanda Divine, Adventures Underground

---
Irene Radford is a fantasy writer with roots in romance, medieval history, and the paranormal. She is active in fencing, which she began as research for a novel, and lacemaking, on which she has written several articles.
She currently lives with her husband in Welches, Oregon, where they share land with deer, birds, and bear.
---
Amanda Divine: You're a big believer in helping out young authors. How did that develop?
Irene Radford: Helping upcoming authors is payback for all the help I got when I first started taking my writing seriously. I grew up (as a writer) in the Romance Writers of America. That entire organization is a big helping hand. They taught me how to write and the business of writing. When I was in school, the prevailing attitude of both my teachers and family was "Why bother trying to write, You Are Going To Fail." I don't want that to happen to any other writer ever. It took me a long time to realize that I can't know I've failed until I try. And you aren't a failure until you stop trying. Best advice I ever got follows. If you want to be a writer, you have to follow three of Heinlein's four rules of writing.
1. You must finish what you write.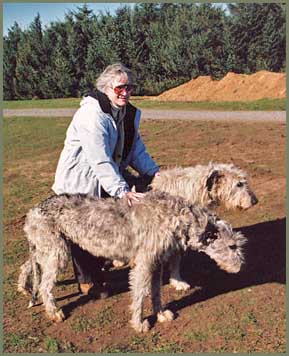 2. You must submit what you write to venues that will pay you.
3. You must keep those submissions in the mail until you sell.
Amanda: And the fourth?
Irene Radford: The fourth rule is: never rewrite except under editorial direction. I rewrite when I find I've taken a wrong turn. I add to and subtract from the original draft. I don't agree with the fourth rule (actually the third in the list) so I rarely post it.
Amanda: Were there any writers who helped you personally?
Irene Radford: When I first started writing, I thought I was writing romances and so I joined Romance Writers of America. In my local chapter Lisa Jackson and her sister Nancy Bishop, both multi-published by Silhouette and Pocket at the time (Lisa has gone on to the New York Times Bestseller lists) gave me a lot of support and advice. Once I made my first sale, Steve Perry (Tom Clancy's Net Force and Star Wars Shadows of the Empire) helped guide me through some of the traps and pitfalls of the business. There were dozens of others who read first drafts and judged contests. But those three stand out in my memory because they were multi-published before me and yet lent a helping hand up.
Amanda: How did learning in that particular genre help shape your writing?
Irene Radford: The Romance Writers of America really taught me how to write as well as the business of writing. This is a fabulous organization that truly takes their writing seriously. From them I learned everything from plot structure, Point of View, and characterization, to how to write a synopsis that can sell a book and how to read and understand a contract. There is so much more to writing than just telling a good story. The mechanics are essential. Managing my career is equally important.
Amanda: How did you transition to science fiction and fantasy? Were you always interested in those genres?
Irene Radford: I'd been reading fantasy for some time when my son made a remark at dinner one night. "Gee, Mom, I think that dragons are born real dark pewter color, like the one on your knick-knack shelf. Then they get more silvery as they grow until they are as clear as the glass dragon I gave you for Christmas... Ding, ding, ding. Idea bells chiming in my head for weeks. And then I had three crises in a matter of about two weeks. Decided life was too short to wait and started writing The Glass Dragon. The rest is history. Or hysterical.
Amanda: How long had The Glass Dragon been in your head?
Irene Radford: Only a few months. I really didn't have much more than a premise when I sat down to write. The story flowed from an opening line. Took a lot of rewrites to make it publishable, but the basic story remained the same once I figured out what it was.
Amanda: Musician Heather Alexander is releasing a CD based on your Merlin's Descendants series. How did that come about?
Irene Radford: Long story short. I've been acquainted with Heather for years, bumping into each other at cons. Sitting on panels together etc. Then a couple of years ago at RadCon she asked if I had written anything she could filk. She wanted to get back into working with the written word and out of her own self-contained box. We talked about my books and settled on the Merlin's Descendants series. I sent her copies. She read them. Both our lives took drastic turns. We waited. Finally we both got our acts together and the results will be released May 1. I couldn't be more pleased with the results. In the process I've gotten to know Heather a lot better. We've had long discussions on the philosophy of the books--and our own. After hearing some of the pieces I believe that Heather *groks* my work better than I do.
Amanda: Had she been looking specifically for this type of project?
Irene Radford: Apparently she had. Heather explains that she tends to spin very well in her own little box. She needs to find other boxes to play in to stretch her creative muscles. Filking a book--or 5 books in my case--gives her new outlets.
Amanda: What made you decide on the Merlin's series?
Irene Radford: The entire Arthurian genre has always fascinated me, as it does a number of people. I think the vast numbers of very knowledgable readers kind of scared me. If I did an entire series in one period I'd have to do research on the PhD level to stay ahead of them. By following later generations I get to be a generalist. I can dabble in a number of interesting periods without having to specialize. There are too many interesting periods to limit myself to one. Just as there are too many interesting books for me to write to limit myself to one world.
Amanda: How would you describe the series' philosophy?
Irene Radford: I've taken dynamic periods of history, inserted a descendant of Merlin who has to nudge events to make them happen the way we remember.
Amanda: What did you enjoy most about playing with history like that?
Irene Radford: I think most historians love the sense of discovery, some little tidbit they didn't know previously. Finding obscure bits of data that really could change history if they didn't occur are goldmines. What would have happened if King John had not signed the Magna Carta? The resulting chaos of fractious barons more powerful than the king would have opened England to even more massive and prolonged civil war. A ripe situation for an agressive King Philip of France to invade. Without the Magna Carta we'd all be speaking French now and the whole idea of rule by law instead of the whim of the king might not have happened. So in my world King John had to sign that document and it became that much more valuable to me as a person and an historian. Conveying that to my readers became the focus of the book.
Amanda: Is there anything you wish had happened?
Irene Radford: The French Revolution is a period of history that truly bothers me--A lot of 20th Century history too but I don't study that era. I wish the French could have brought about a republic without the horrendous violence and slaughter. But I also realize that the system was so corrupt a quiet revolution would never have happend. The entire government and social regime had to be discarded. They even tried to discard their own history too. Starting from scratch was painful and didn't always work, coming out of it took a very long time with a couple of reversions (Napoleon's Empire) that didn't work either. Peace in history was even more elusive than it is now.
Amanda: What are you working on now, peaceful or not?
Irene Radford: I'm working on the second book of a new series under a different pseudonym that I can't tell you until the book is out. The first one will be released in September and has a killer cover [by Donato Giancola]. There will be a link from the website close to that time at http://www.ireneradford.com
Amanda: What's next?
Irene Radford: Hee, hee, hee. I have contracts for 4 books in two different series under the new pseudonym. I've just sent in a proposal for more dragon books. I'm collaborating on another series with Bob Brown that hasn't sold yet. Give me a couple of weeks and I'll probably come up with some more projects. And don't forget Heather's CD of the Merlin's Descendants series. If that brings up my sales there may be two or three more of those.
---
(More info)
Interview Conducted by E-Mail, April/May of 2006
Copyright © 2006 Adventures Underground
---