Jone Yolen
Children's Books, Past, Present, and Future
Interview by Amanda Divine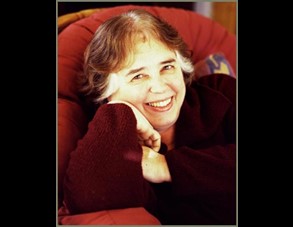 ---
Jane Yolen is an author of hundreds of children's books, fantasy, and science fiction, including The Devil's Arithmetic, Briar Moon, Animal Fare, Sleeping Ugly, and Wizard's Hall.
As well as being a prolific writer, Jane Yolen has also worked as a teacher, speaker, and a reviewer of children's literature. She has been called the Hans Christian Andersen of America and the Aesop of the twentieth century, and her books have won numerous awards.
---
Amanda Divine: You seem to have been successful at everything in your childhood—writing, singing, debate, basketball, languages.... What made you decide to focus on writing?
Jane Yolen: Well, I was too short for either ballet or basketball in anything other than a school setting, not particularly good at languages (though I took Latin and Spanish) and debate had little real world application unless I decided to become a politician. That left singing (I was good, just not good enough) and writing. My parents were writers as were most of their friends. It seemed that adults were writers. So I knew that whatever else I did (and I did journalism, book editing, college teaching) I would write. And it was so.
Amanda: How did your parents influence your writing? Did they actively encourage you in any one direction, or was writing just there in the background?
Jane Yolen: My parents were writers and readers, so they modeled very effectively. But they were also very proud of the writing I did.When my brother, 3 1/2 years younger, and I wanted to do a newspaper with articles about the people in our apartment building, my mother typed out all the copies.
After I graduated from college, my father helped me get magazine stories published. (Though he said of my poetry,"That's nice dear, but you can't make a living from writing poems.") My mother used to read my children's book manuscripts and press copies of my books on her friends. My father displayed my books but as they were for children, refused to read them!
Amanda: What kinds of writing did your parents do?
Jane Yolen: My father was a journalist, then a public relations consultant. He was president of the Overseas Press Club for several years. My mother wrote short stories and created crossword puzzles and double crosstics.
Amanda: How did your father help you publish the magazine stories?
Jane Yolen: He had many connections so when I pitched story ideas to them, they were more than open to listen.
Amanda: When were you selling stories to magazines? Was this before you went to college?
Jane Yolen: First sale was when I was in college, to (of all things) Popular Mechanics. Next sale was to either The Ford Times or This Week—can't remember which. I may have been a junior in college at the time.
Amanda: What type of story did you sell to Popular Mechanics? Did you have any particular interest in the magazine?
Jane Yolen: I had absolutely no interest in the magazine. It was a story on my father who was International Kite Flying Champion, and making kites.
Amanda: What kind of writing did you study in college?
Jane Yolen: Mostly poetry. Won all the poetry awards senior year. I did one course in playwriting, one in short fiction. And I worked for the Press Board (was head of it my senior year) writing articles about the school and students for hometown papers and magazines. Also won the journalism award. And wrote the lyrics for the class musical.
Amanda: Were you planning to write professionally in both journalistic and poetic fields, or did one have a stronger pull than the other? Or perhaps you didn't even look at them all that differently...
Jane Yolen: I always thought of journalism for the pocketbook and poetry for the heart. Much to my surprise these days I [can] make a living at poetry. Children's and adult poetry. I was a lousy journalist. Or at least I hated interviewing grieving strangers.
Amanda: What did your teachers prefer? Did they encourage writing that would make money?
Jane Yolen: My teachers taught literature. My writing teachers at college let me write poetry and we never discussed money. Ditto the one course after college in writing children's books.
Amanda: They let you write poetry...Was that not a respected field back then?
Jane Yolen: I could write all the poetry I wanted to, but couldn't graduate with Latin honors then without writing a critical thesis paper. I chose to write a book of poetry.
Amanda: How did you get your editing job after college? Did you move to New York having already accepted the position?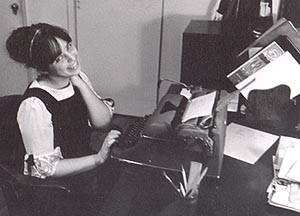 Jane Yolen: I kept an eye on the ads, and got a job with Saturday Review next, but it was an awful job. I was working in the production department, hating it, hating my boss, and was the last in a long line of young women who worked there a few months and got fired. Meanwhile, I had been writing magazine articles and taking a course in writing for children. I was fired, and got a job in book publishing, working first as an editorial asst, then asst editor for Gold Medal Books.
In that first year with them, I sold my first two (children's) books, got engaged, decided I wanted to learn more about children's books. Left that job for an Associate Editor position at a children's book packager: Rutledge Books, part of Ridge Press. After a year there, where I learned an enormous lot, I was able to get a job as Assistant Editor of children's books at A.A.Knopf, got married, worked there for almost three years. Meanwhile I'd sold five more books, and left to travel around Europe for a year with my husband. Got pregnant in Europe and we came back to the States where I became a freelance writer for good.
Amanda: At the Saturday Review, was it social atmosphere that you hated, or did you dislike the actual production work?
Jane Yolen: The work itself was interesting, though not playing to any of my strengths. My boss was a horror.
Amanda: What did you learn in the class on children's books? Is that the only course you took before getting published?
Jane Yolen: Only course in writing children's books I ever took. It was a very good course in technique taught by Mina Lewiton at the New School.
Amanda: Were you able to publish anything you had written there, or was the class really just a starter for you?
Jane Yolen: I sold one book BEFORE taking her class, and one—See This Little Line—I wrote IN her class.
Amanda: Sounds like a good class! Are those the two you sold while working at Gold Medal Books?
Jane Yolen: Yes, though I quickly decided after book one that I wanted to learn more about children's books and got the job with Rutledge Books. So the first book came out when I was working there.
Amanda: You're obviously quite successful now, but how were your books received in your early days of children's books? I would imagine that seven books in four years or so was not too bad a feeling...
Jane Yolen: Things began to really take off with my eighth (or so) book which came out in 1967, The Emperor & The Kite, which was a Caldecott Honor Book.
Amanda: What was it about children's books that first interested you?
Jane Yolen: Three things first interested me in children's books: Story was important, accessible poetry was important, and child readers had an unapologetic and intact sense of wonder.
Amanda: Did you think books already on the market were meeting those goals, or was there a definite need for you to fill?
Jane Yolen: It was a very different time in publishing and good writing trumped all. No celebrity books, no big box stores, 85-90% of children's books being sold into schools and libraries.
Amanda: How have your interests in children's books changed, or are those three things still important to you?
Jane Yolen: I am still a literary writer at heart, that is I pay no attention to fads and little to any audience except that of my own heart. But I am capable of writing and being interested in writing a lot of different things, and that is what has given me my long career.
Amanda: What do you think lessened the importance of good writing? Was it just money and sales?
Jane Yolen: The industry has changed; the publishing model has changed. Major international companies now own trade publishers and are trying to make them big money makers. The publishers from long ago knew that book sales are often slow, literary writers sometimes years finding or developing their audience. Now it's one book and you're out.
Amanda: The best young adult writing out there is not really what's most popular, and a lot of what's selling seems very reminiscent of books already published. I've read about your skepticism of the Harry Potter and Goosebumps books for similar reasons... Does the fact that kids are reading outweigh what they're reading?
Jane Yolen: It doesn't outweigh it. Might as well say that at least kids eating at MacDonald's are putting food in their bellies. Well, sure, if they had no other places to eat open to them it would outweigh it. But in perspective, a lot of the kids "reading" Harry Potter or Goosebumps are not real lifetime readers. Not critical and passionate readers, except of that one thing. I would love to believe that all those newly-engaged readers that Rowling and Stine have captured and captivated will go on to read things that stretch them even more. That they will go on to, say, Philip Pullman and Diana Wynne Jones and Terry Pratchett and Robin McKinley and the like. But I have my doubts. I think if they go on to anything, it's usually lightweight secondary books like Eragon. But I have been called an elitist, and I suppose I have to admit to that.
Amanda: The thing about the McDonald's analogy is that many kids are basically starving when it comes to reading. What do you think it takes to create that lifelong reader?
Jane Yolen: I think happy exposure to books, books being available at all levels and kinds, and a less over-programmed life. That said, of my three grown children who had all of the above, two are passionate lifelong readers, and one is not.
Amanda: Do you think this is just a cycle of kids not reading, or are technology and electronics pushing books out?
Jane Yolen: I think there is SO much going on these days, so many loud entertainments on offer, that the idea of quietly sitting and reading has fallen behind.
Amanda: What have been your favorite things about a life of writing?
Jane Yolen: Joke answer: Working in my jammies. Serious answer: Knowing that my work has affected lives.
You can learn more about Jane Yolen at janeyolen.com

Interview conducted by email, February of 2007
Copyright © 2007 Adventures Underground
More Interviews